let's talk ORGANIC BEVERAGES
ORGANIC SPARKLING DRINKING VINEGARS
& CLUB SODA
Organic Sparkling Drinking Vinegars
---
For thousands of years, vinegar has been used as a thirst quencher and health aide. Now, Crafted Brand Company brings you delicious, low calorie Organic Sparkling Drinking Vinegars that provide all the benefits of vinegar, with the great taste of natural ingredients. Each bottle contains 1 tablespoon of organic apple cider vinegar and is sweetened 100% agave nectar with only 40 calories per bottle. Enjoy these refreshing concoctions any time to give your day a healthy boost.
Organic | No Preservatives | No Artificial Ingredients | Low Calorie
Blackberry
SPARKLING DRINKING VINEGAR
Organic Blackberry, Organic Apple Cider Vinegar & Organic Agave.
let's talk sparkling mixers
SPARKLING MIXERS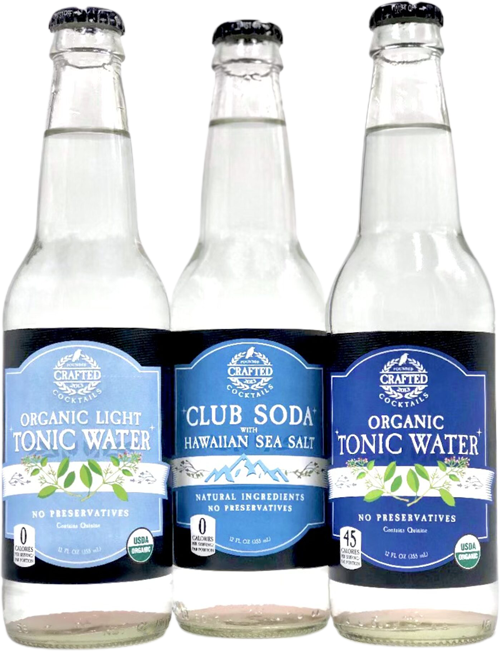 Sparkling Mixers
---
Crafted Cocktails is excited to launch one of the first USDA Certified Organic Tonic waters. Made with only the finest ingredients and a trusted brand that never uses preservatives. We thought you should have the best ingredients to make the highest quality cocktails!
CRISP, CLEAN & REFRESHING
ONLY USDA Certified Organic Tonics on Market
Low Calorie | No Preservatives | Organic Ingredients

Club Soda
SPARKLING MIXER
Most club sodas on the market today contain preservatives and artificial ingredients. So we decided to make our own clean and pure club soda. Made with the only the best ingredient, Hawaiian Sea Salt, our Club Soda is crisp, clean & refreshing. Have it with a squeeze of your favorite citrus or pair with your favorite spirit. Club soda the way it was born to taste.
Since 2013 Crafted Brand Company has grown to become one of America's leading Natural Beverage Companies.
From our Headquarters near San Diego, CA we are committed to bringing great tasting, low calorie beverages with no preservatives. We partner with retailers large & small to ensure our customers have access to our high-quality brands anywhere in the United States & Canada.
We appreciate our loyal followers and look forward to continuing to grow our brands and offer more great tasting beverages.
Cheers,
Press the button below to talk to us about products, or anything else on your mind!