let's talk
mixers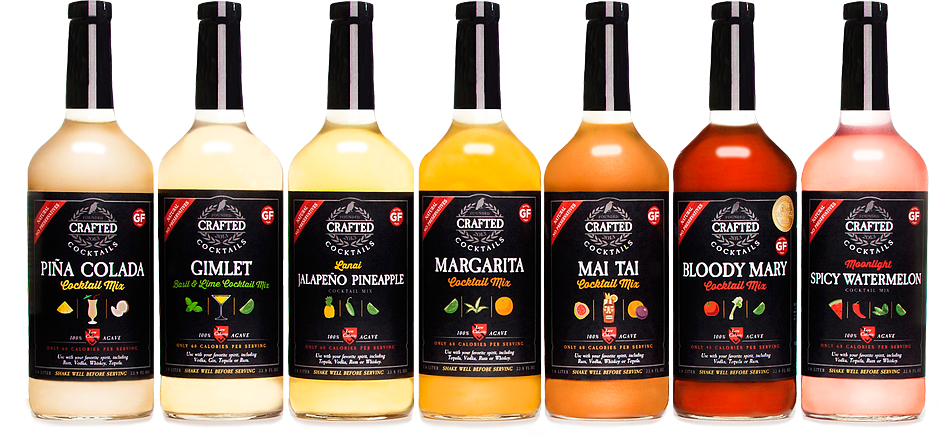 Mocktail & Cocktail Mixers
---
Our mission is to provide you with the best, most sophisticated, great tasting mocktails and cocktail mixers. We only use quality ingredients including naturally low-calorie organic agave, so anyone can serve a precision-crafted cocktail making our mixes truly "handcrafted in a bottle."

NEW
Grapefruit Paloma
Cocktail Mix
Flavor Notes: Grapefruit & Lime
Welcome to Mexico's best-kept secret. While the tequila sunrise and the margarita hog the spotlight, the laid-back Grapefruit Paloma has quietly become a fan favorite north of the border. Simply pour your favorite tequila, mezcal (or both) over this tasty fusion of grapefruit, lime and agave nectar and enjoy!
---
recipe 1: Traditional Grapefruit Paloma
recipe 2: Grapefruit Mocktail
let's talk
SHRUBS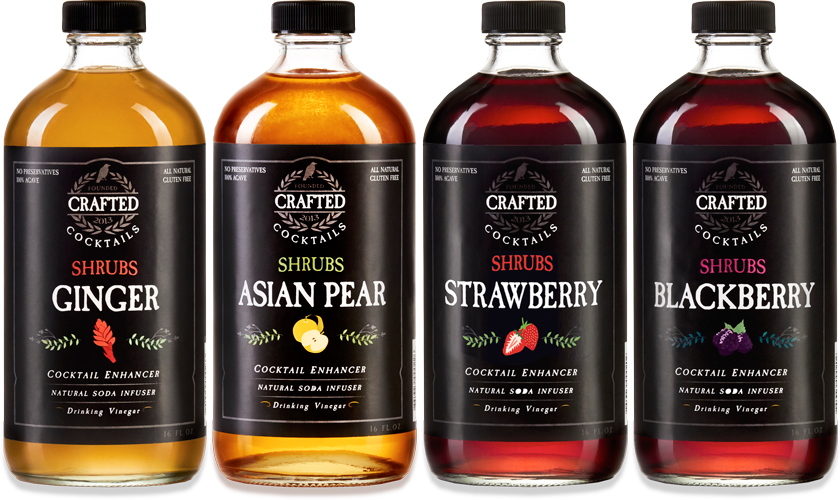 Shrubs
---
What's old is new again as Shrubs are sweeping the globe as the natural cocktail enhancer of choice. Crafted Cocktails, the maker of natural Cocktail Mixers and Shrubs, offer five refreshing flavors, STRAWBERRY, BLACKBERRY, ASIAN PEAR, GINGER & PINEAPPLE.
Founder, Felicia Vieira, has gone back to her roots using her grandmother's Shrubs recipes to preserve fruit flavors throughout the winter. Using them with her grandfather's homemade spirits, the entire family become mixologists. Vieira loves sharing her family's passion for this natural, fruit-infused drinking vinegar which provides any cocktail a great tasting boost.
PAIR WITH ANY SPIRIT: Our Shrubs can be used with any spirit: Vodka, Gin, Whiskey, Bourbon, Tequila, Mezcal or Rum. And even Sparkling Wine and Champagne.
USE AS A NATURAL SODA OR FLAVORED WATER: Pair Shrubs with Sparkling Water and make a refreshing, low calorie natural soda.
VINEGAR IS A HEALTH AID: Vinegars are a natural health aid for many ailments. Get your daily vinegar shot in this great tasting beverage.
30 SERVINGS PER BOTTLE: Shrubs are concentrated and packed with tons of flavor. Most recipes only need ½ ounce which means you get about 30 servings per bottle.
LOW CALORIE: A ½ ounce serving is only 25 calories, but still packs your drink with tons of flavor.
let's talk essentials
BAR ESSENTIALS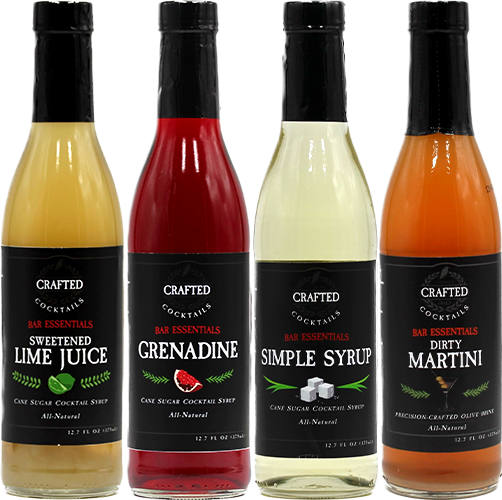 Bar Essentials
---
Is there anything so delicious as a perfectly mixed drink? The layers of color, the multiple levels of clean flavors, the beautiful blend of recognizable tastes blended with your favorite liquor in a mixed drink make any occasion memorable. We feel that Bar Essentials are the key to a well-balanced drink. They add flavor, depth, and color to your cocktails.
Crafted Cocktails is excited to introduce our line of Bar Essentials that are key for any at home Mixologist. Using only premium ingredients, our Bar Essential line will elevate any alcoholic and non-alcoholic recipe. Skies the limit!
Sweetened Lime Juice
BAR ESSENTIALS
Sweetened Lime Juice was designed to give your cocktail or mocktail a sweet citrus boost. Other uses for this Bar Essential include Marinades, Dressings or Sauces.
Directions: Use about 1 Tbsp. per serving to enhance the sweetness of your cocktail or mocktail.
let's talk
Condiments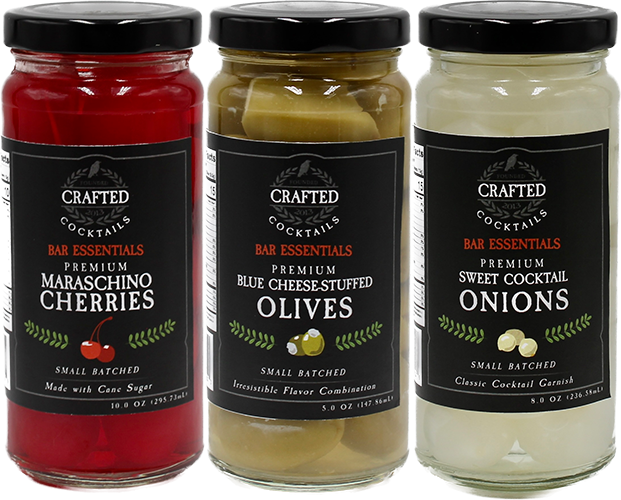 Condiments
---
Is there anything as tantalizing as the perfect garnish for your drink? The pops of color, the surprise hints of rich flavors, and the delightful contrast they offer against your choice beverage transform ordinary moments into extraordinary ones. We believe that gourmet garnishes are the secret to a remarkable cocktail. They lend elegance, complexity, and a touch of whimsy to your concoctions.
Crafted Cocktails is thrilled to unveil our collection of essential condiments for every home Mixologist. Sourced from the finest ingredients, our gourmet garnish range promises to elevate both your alcoholic and non-alcoholic creations. Let your imagination soar!
Maraschino Cherries
CONDIMENTS
Maraschino Cherries are a classic cocktail garnish that make for a sweet, juicy treat. Finally, maraschino cherries that taste as delicious as they look. Use one or two cherries to top off your cocktail, mocktail, ice cream sundaes, fruit salad, and more!
Press the button below to talk to us about products, or anything else on your mind!